Scans de la entrevista con Rob en la
revista australiana Film Ink
.
Interesante
lectura.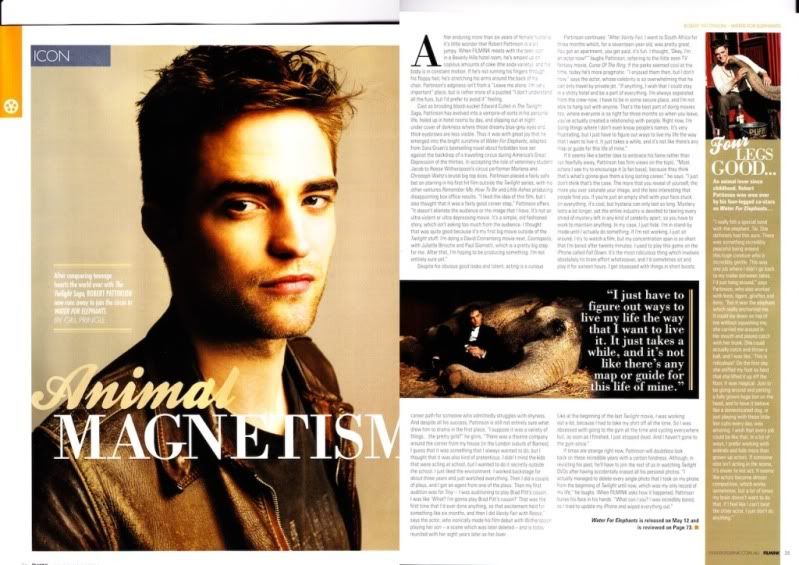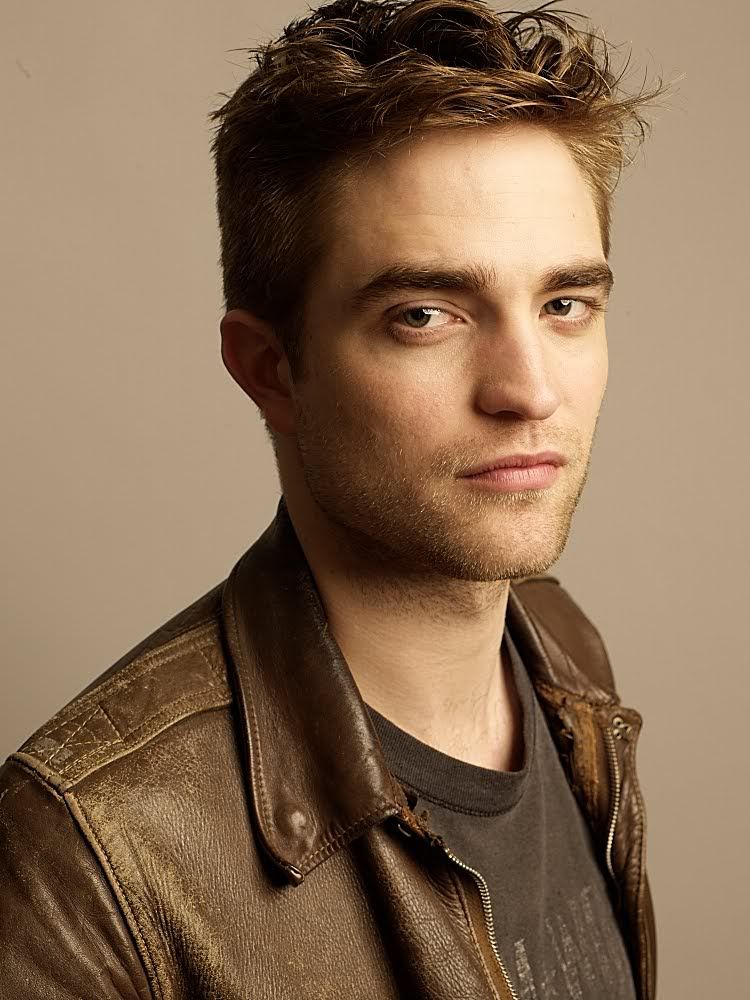 Sobre RM (será WFE, no?) -
Me gustó la idea de esta película. Pero además pensé que era un paso bastante bueno en mi carrera. No aleja al público de la imagen que tengo. No es una película ultra-violenta ni ultra-deprimente. Es una historia sencilla, a la antigua, lo cual no es pedir mucho del público. Pensé que eso era bastante bueno porque era mi primera gran película fuera de lo de Twilight. Después voy a hacer una película de David Cronenberg, Cosmopolis, con Juliette Binoche y Paul Giamati, lo cual es un gran paso para mí.
Después de eso, espero producir algo
. Aún no estoy completamente seguro
Lo que le llevo al arte dramático, al cine -
Supongo que fueron varias cosas...las chicas guapas? (sonríe). Había una compañía teatral al otro lado de la esquina en mi casa. Supongo que era algo que siempre quise hacer, pero creo que también era algo como pretencioso. No hacía caso a los chavales que actuaban en el colegio, pero quería hacerlo a escondidas fuera del colegio. Era sólo que me gustaba el ambiente. Trabajé en el backstage durante unos tres años, observándolo todo. Después hice un par de obras, entonces conseguí un agente de una de aquellas obras. Después, mi primer casting fue para Troy - me presentaba para el papel de primo de Brad Pitt. Y yo como: "qué? voy a hacer de primo de Brad Pitt?". Ésa fue la primera vez que he hecho algo, así que aquella excitación duró como seis meses, luego hice Vanity Fair con Reese. Después de VF fui a Sudáfrica durante tres meses (para Curse of the Ring), lo cual para un chaval de 17 años es genial. Tienes un apartamento, te pagan. Es divertido, pensé: "vale, ya soy actor".
Hoy es más pragmático -
Lo disfruté entonces, pero no sé. En todo caso, desearía poder quedarme en un hotel de mierda y formar parte de todo. Ahora siempre estoy separado del equipo. Tengo que estar en algún lugar seguro y no puedo pasar el rato con nadie. Ésa es la mejor parte de hacer películas, también, dónde todo el mundo está tan apretado durante tres meses que cuando te vas, has creado una verdadera relación con la gente.
Ahora mismo, estoy haciendo cosas en las que ni siquiera sé el nombre de la gente. Es muy frustrante pero tengo que encontrar formas de vivir mi vida de la forma en que yo quiero vivirla. Lleva un tiempo y no es que haya un mapa o una guía para esta vida que llevo.
La mayoría de los actores que veo, intentan fomentarlo (una base fan) porque creen que eso es lo que va a darles una carrera duradera. Yo no creo que ése sea el caso. Cuanto más desveles de ti mismo, más saturas tu imagen y menos interesante te encuentra la gente. Si sólo eres una fachada vacía con tu cara puesta en todo, es guay, pero la histeria sólo puede durar cierto tiempo.
El misterio dura mucho más pero la industria se dedica a deshacer cualquier pizca de misterio que pueda quedar en una celebrity, así que tienes que trabajar para poder mantener algo.
En mi caso, me escondo. Estoy en stand-by hasta que hago algo. Si no estoy trabajando, me quedo sentado por ahí. Intento ver alguna película pero el tiempo que puedo mantener la atención es tan corto, que me aburro al de 20 minutos. Solía jugar a un juego en el iPhone, el Fall Down - es la cosa más ridícula, que no implica absolutamente nada de esfuerzo mental y me sentaba y a veces jugaba durante 16 horas. Me obsesiono de golpe con cosas durante poco tiempo. Como al principio de la última película Twilight, me puse a entrenar un montón porque tenía que quitarme la camiseta todo el tiempo. Así que estaba obsesionado con ir al gimnasio todo el tiempo e ir en bicicleta a todas partes, pero en cuanto terminé, lo dejé del todo. Y no he vuelto a ir al gimnasio desde entonces.
Borró todas sus fotos personales -
De he hecho, me las he arreglado para borrar todas y cada una de las fotos que he sacado con mi teléfono desde el principio de Twilight hasta ahora, que eran el único documento de mi vida.
Cómo sucedió?
Qué puedo decir, estaba increíblemente aburrido así que intenté actualizar mi iPhone y lo eliminé todo.
Más entrevistas por ahí (nada muy allá pero por si alguna se anima): Jacqueline West, diseñadora de vestuario de WFE, diciendo que Rob es el nuevo Brad Pitt (
aquí
) y Reese Witherspoon hablando sobre el rodaje de la escena del baile y el moquillo de Rob es la escena de amor (
aquí
).
Gracias
Robtenation
y
Robsessed