Chicas ya ha llegado el finde, y con el he encontrado un hueco para contribuir con algunas noticias e información a nuestro HP.
Por el título de la entrada ya habréis deducido de que trata, pues sí, sobre Kristen. He encontrado en nuestro blog de referencia
Roward and Krisella
diversa información sobre ella y su próxima agenda, y como sabéis que estoy abonada a los refritos, aquí os dejo un resumen acerca de ella.
Comenzando con
la confirmación de una nueva película para ella,
en la que además participará en la producción. El título de este film será
" Cali".
Se rodará en Los Angeles y será producido por Voltage Productions y New School Media. A continuación os dejó una breve traducción ( un poco rara que he tenido que retocar) sobre el guión de la película, gracias a R and K.
Michael Diliberti (30 minutos o menos) escribió el guion que sigue : Mya (Stewart) y Chris, una pareja del valle de San Fernando, unos tortolitos con afición a tomar malas decisiones y a un comportamiento peligroso. Después de vender una película porno falsa con Mya en ella, ellos cabalgan al horizonte con mucho dinero. Años después, Mya debe "regresar de la muerte" para salvar a su hermana mas joven que dejo en Cali, donde la joven pareja tiene problemas con enojados hombres de negocios, estrellas porno asesinos, drogadictos, una imparable maquina matadora con sombrero de vaquero y su propia relacion contenciosa.
Buena imagen de Kristen para ilustrar el guión de su nueva peli, así nos hacemos una idea de por donde van los tiros.
Más información sobre esto...ya sabéis
HERE
Para continuar os dejo unas fotillos sobre la
CinemaCon 2012
en las Vegas (como me gustaría visitar esa ciudad), a parte de las que ya puso Ro en su entrada del otro día.
Llegando a las Vegas en avión privado, ahhhhh!!!!!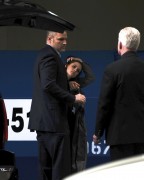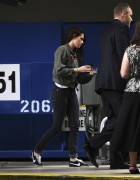 Scan en HQ de la foto
detrás de cámaras de la revista Troius Couleurs en el set de On The Road. Esta ya la vimos en muy mala calidad en su momento, la verdad no recuerdo si después se puso en mejor calidad en el blog, pero por si las moscas aquí está.
También tenemos un vídeo de Charlize
en donde habla de Kristen con Access Hollywood. Habla muy bien de ella, pero ya se sabe que hay que ser politicamente correcto por estos lares, jeje. No en realidad Charlize es una actriz que siempre me ha gustado, lo que me pasa es que en esta, es muy muy mala y eso me influye un poco. Arrrrrggggggg!! no puedo insertarloooooooo.
Aquí
tenéis el enlace y la traducción de la entrevista, gracias como siempre a R and K.
Ha salido un nuevo poster de SWATH y también un clip presentado por ella. (podrían haberle arreglado un poco el pelo, esta Kristen ya vuelve a las andadas con su imagen jiji). Nada , los vídeos se me resisten, os dejo el enlace de
R and K
.
Chicas para finalizar la entrada recordaros que Kristen tiene dos citas más de promoción de SWATH muy importantes, ( aparte de To Night Show el 4 que ya comento ST en su día) lo que quiere decir que habrá avalancha informativa, vídeos, etc,etc, en total son:
-To night Show el 4 de Mayo
-con Jimmy Kimmel el 7 de Mayo
-en el show de Graham Norton el 11 de Mayo
Ahora mis nenas me reclaman, os dejo con esto, si puedo luego más... hay más material muy interesante sobre ROB llegando a Washington DC, dicen que para la
White House Correspondents' Dinner, también
dicen que Kristen le va a acompañar, que fuerteeeeeeee!!!!! HABEMUS ROBAMAAAAAAAA.
Besotessss para todassssssss!!!! incluidas la jefa y las desaparecidassssss!!!!!