Es por esta entrada de
Ted Casablanca
. Parece que al final se confirma que
ésta
es la casa que Rob y Kristen alquilaron en LA y por más que una parte de mí está encantada,
gracias al ángel de la guarda de las fans que están en peligro de necesitar un psiquiatra
, la mayor parte de mí está
horrorizada
de que una información así haya salido a la luz, que hubiera fans escondidos y al acecho entre los arbustos, que tengan que mudarse por esto, que fueran tan confiados de dejar abierta la puerta que conducía a su casa y tengan que terminar atrincherados...
gah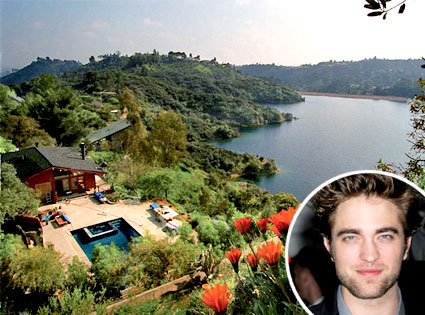 Teles Properties; Dennis Van Tin/LFI/ZUMAPress.com
As we've told you, Robert Pattinson and Kristen Stewart have been shacking up together in Rob's rented five-bedroom, five-bath home (that Stewart helped pick out) whenever the two are in Los Angeles. And that's apparently straight where they went after they landed at LAX Tuesday!
Here are some peeks of the gated abode with a guest house, and no we did not take them. (They were on the original listing from earlier this summer.)
The listing boasted how perfect the "one kind of hideaway" is for those desiring "privacy and serenity," but unfortunately, that's not exactly the case...
You know we protect out dear Robsten and wouldn't want to out where they've been hiding (some new pics of the pad hit the Internet today, taken while Rob was home at the time, super creepy, andUS Weekly months ago), so that's exactly what we're not doing.
But some crazy (or maybe they prefer the term curious?) fans have discovered Rob's address and have attempted to scope out the scene for themselves.
We're told by sources in the Bel Air community that fans have found the property and have been caught roaming around the premises. Luckily neither babe has been home while fans were literally lurking around in the bushes. No joke, we're told the gate leading to the house is usually left wide open, leaving the home totally exposed to paps and curious Twi-hards.
Rob rented this place before he started filming Water for Elephants, but it's not his main hideout with Stewart. Oh, no. Those two are much craftier and have another secret spot for their rendezvous, which we, of course, would never reveal.
Time to pack up and get out, Robsten! Or else just keep this place for party time. Sure is fab enough.
In order to satisfy your curiosity, and so you to keep your distance, below are a few more shots that were featured on the listing (so don't give us s--t about it; they're public photos, people).
Aún con todo...qué preciosidad de casa, os los imagináis ahí?? (lo sé, no tengo remedio).
Si os habéis quedado con ganas de acoso fan...
aquí
unas fotos de Rob en Montreal comiendo con TomStu y la mujer de Sam Riley la semana pasada. Supongo que está mal
deleitarse
en lo adorable que está Rob con la barbilla apoyada en los brazos sobre la mesa...
puede que el ángel de la guardia ése esté sobrecargado estos días y no esté haciendo bien su trabajo...