Con la de números de esta revista que he comprado yo de pequeña...y ahora van y sacan a Rob, me ha dejado tan alucinada como si de repente saliera en Barrio Sésamo!
Sólo que, claro, al incluir el audio, la experiencia deja de ser apropiada para el horario infantil...cuidado con las tucas, ladies ;)
Click and read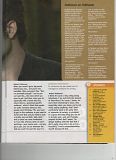 Click and dead
(
audio
).
Esto sí que es un aliciente para estudiar inglés, ole!
Tierra-llamando-a-ladies, tierra-llamando-a-ladies, os suena esto de algo? es parte de las declaraciones de Rob durante la
rueda de prensa de NM
(entera,
aquí
), pero no creo que nadie se
enfade
con los de "Speak Up" por el
refrito
, verdad? Por si alguien necesita traducción:
Los saltos que se oyen es porque cortan cosas. Tenéis la comparecencia entera en el link de arriba.
Esta franquicia te ha convertido en un actor taquillero. Cómo ha cambiado eso tu carrera y dónde quieres estar dentro de 5 años?
No lo sé, sólo he hecho una película fuera de las series (...) pero incluso ésa, la he hecho con el mismo estudio. Todavía estoy un poco a oscuras en cuanto a cuál es mi viabilidad económica real, fuera de las series, pero sin duda es diferente. Te ofrecen cosas que nunca antes hubieras soñado que te ofrecieran pero eso también da miedo porque no tienes que hacer castings para nada y dices "no quiero hacer una película sólo porque va a conseguir hacerse"
Es una situación que asusta en muchos sentidos. Te tienes que cuestionar a tí mismo mucho más. Antes de Twilight, hacía cualquier película que me llegaba y trataba de sacar lo mejor de ello después. Ahora, se espera de ti que entres en la película y aportes no sólo viabilidad económica, sino una actuación también. La gente dice "no puedes hacer el tonto por ahí, te contratamos para ser una estrella y un actor". Es difícil y da miedo.
No es eso con lo que se sueña cuando empiezas en el negocio?
Sí, cuando no tienes una película grande que te respalde y no eres taquillero, todo el mundo dice: "no da suficiente dinero", así que no puedes conseguir los papeles que quieres. Y entonces, cuando lo consigues, sobre todo con una película como ésta, que se percibe que tiene un público en concreto, sobre el que yo creo que la gente está bastante confundida además, la gente empieza a pensar: "oh, tienes que conectar con este público, tienes que hacer esto o lo otro, tienes que tener una cierta imagen, bla, bla, bla". Tiene algunas limitaciones, mientras que cuando nadie ve tus películas y consigues un papel, puedes hacer lo que quieras. Es así. (...)
Cómo mantienes el equilibrio entre darte a conocer a los fans y el público, fuera de tu papel de Edward pero también que tu vida privada siga siendo privada?
Es algo peligroso, hacer entrevistas. Trato de limitar la cantidad de entrevistas que hago. Porque, quiero decir, nadie es tan interesante, sobre todo cuando realmente no estás diciendo nada. Y no tengo ningún deseo en particular de convertir en un personaje de la sociedad o lo que sea. Así que supongo que lo único que puedes hacer es hacer trabajos y ver si la gente responde a eso. Pero siempre me aferro al hecho de que yo no sé realmente quién soy, así que espero no dividirme a mí mismo en compartimentos debido a ello.
Gracias
Robsessed
(lo de
Robvocalgasms
es suyo, es buenísimo ;)