Si esto es sólo un adelanto...madre mía!
Muchas chicas en todo el mundo se sienten muy celosas de ti porque vas a rodar escenas de amor con Robert Pattinson
Lo séeeeee, tengo mucha suerte y él es tan increíble y maravilloso y dulce, también es el tío más majo, añade todo eso a la mezcla, quiero decir, es tan guapo y además es una muy buena persona.
No sé cuándo van a llegar porque a Reese sólo le quedan dos días así que...deben esperar de mi que me lo tome con mucha profesionalidad
Debe ser difícil porque es una chica muy mona
Ella es fantástica...va a ser...creo que cada vez que hay una escena de amor o algo así, después siempre termino recibiendo una paliza aquí, me dan una paliza como diez veces y nuestro momento más romántico termina conmigo recibiendo una paliza a manos de diez tíos, así que...
No es el final más emocionante para una escena romántica
Dios, debería...tal vez es un poco spoiler! no me había...ooops!
Rob y tú habláis sobre las escenas de amor antes de rodarlas?
Sí, hablamos de ellas un montón, no, no hablamos para nada. Probablemente nos reiremos todo el tiempo, porque todo lo que hacemos es reirnos y gastarnos bromas. Él me hace reír, a veces está como en otra parte y es como "hola! vuelve aquí!"
Mírame!
Sí, pero...nos lo pasamos muy bien
Y es tan gracioso pensar que en Vanity Fair, tu película, cuando tenía 16 años, interpretaba a tu hijo. Recuerdas a Rob entonces? porque trabajó sólo 2 días
Me acuerdo, lo recuerdo vagamente porque estábamos rodando una escena en la que yo tenía 47 años y yo había abandonado a mi hijo y él aparece. Él venía andando por un pasillo y yo me volví al director y fue como: "ése es mi hijo? es muy guapo! está muy bueno!"
Lo sé, es como raro, pero ahora parece que hace tanto tiempo e incluso entonces, en el set me di cuenta de que, "parezco demasiado mayor para hacer de su hijo". Probablemente por eso me cortaron.
Los hijos de Reese, sobre todo Ava, de 10 años, tuvieron que sentirse muy emocionados de conocerte, sobre todo ella, porque era una gran fan de Twilight
Ava se lo tomó con mucha calma, fue como "sí, hola". Pero sí, son muy simpáticos, son una familia estupenda.
Nunca había visto nada como esto, definitivamente nunca había trabajado en algo así
Robert se va con el circo. Sólo nosotros hemos podido entrar en los estudios...en Hollywood, para el gran desfile
Esto es fantástico, no?
Demasiado. Quiero decir, todos los dias parece que puedes mirar a tu alrededor en el set y no hay nada que no esté absolutamente bien
Y ésa es Reese montada en el elefante
Sé lo duros que son
Sí
Yo estaría incómoda
Estuve entrenando con ella durante 3 meses y siempre llevaba vaqueros así que cuando por fin tuve que hacerlo con leotardos fue como "ouch!" se me clavaba
Luego vuelven escenas editadas del vídeo anterior y finalmente:
Y el corte de pelo, está bien llevarlo más corto?
Creo que Edward va a tener que hacerse un pequeño corte de pelo en la siguiente película Twilight
(mirad su cara, lo estaba deseando!)
Gracias
Robsessed
.
Y a mama y papa Pattz. Siempre
(pero habéis visto cómo está en este vídeo????)
*Versiones HQ de los vídeos (merecen la pena, en serio, es lo que se debe sentir cuando te operas de cataratas)
Atención a
esa mirada
...
Aum! (me los has quitado de la boca ;)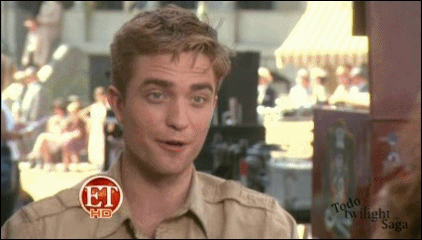 Oh...esa risa otra vez
Ooops! (me llamabas????)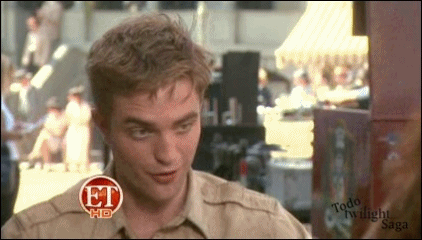 I look too old to be playing her son!
(siempre el gentleman)
It's probably why I was cut
ME-MUERO
No te hagas el bueno ahora!
I think Edward might have a lil' haircut in the next Twilight movie
(veis como es un bicho?! ;)