Después de hacer un tour europeo, pasar nervioso por un festival con tanta importancia como Cannes, esperar criticas sobre tu actuación y sobre la de tu novia, saberte el centro de las miradas de todos los paparazzis por haber estado más efusivo de lo habitual con ella, hacer turismo en alguna que otra ciudad con tus papis, contestar a cientos de entrevistas con las mismas preguntas siempre y atender a miles de chillonas fans posando para interminables fotos amablemente incluso bajo la lluvia....
Este maravilloso hombre salido aún no se de dónde, llega a Londres y se sienta junto a Cronenberg en una tienda Appel para hablar de Cosmopolis y se presenta con su camiseta arrugadita debajo de la chaqueta, su estilo casual, como "recien salidito de la ducha y me pongo lo primero que encuentro" y está pa morirse de guapo, de sexy y de simpático y para muestra ahí le tenéis...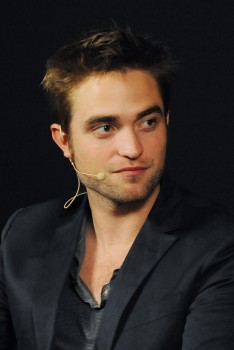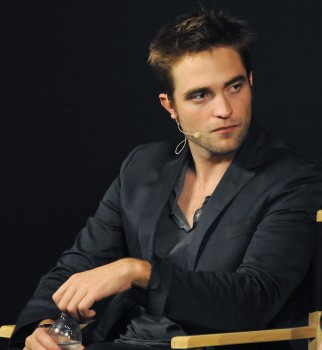 Tweets @OK! Magazine:
R Pattz nunca mas tendra sed
Robert Pattinson vio algo en la punta de su zapato y luce un poco confundido
No podemos dejar de mirar a la cara hermosa de Robert
Robert Pattinson dice que "las cosas inglesas no son muy buenas". BOO!
Omg, Robert Pattinson está claramente mordiéndose las uñas. Mal habito, señor!
Robert dice que es una sensación increíble haber estado en Cannes.
David Cronenberg es hilarante
R-Pattz está enamorado del agua!
Robert Pattinson y el director David Cronenberg están conversando sobre Cosmópolis.
R-Pattz casualmente sorbe un poco de agua. OMGAAAD!
@RPLife- Los papas de Rob estan en el evento :D



Cronenberg habla de Rob y de 'Map To The Stars'
El actor británico Robert Pattinson parece que va a ser la nueva musa del famoso director de ciencia-ficción y terror que es genio financiero Eric Packer - que se dirige en Nueva York en una limusina blanca en busca de un corte de pelo - que aparece en cada escena de la nueva película de Cronenberg, Cosmópolis, que compitió por la Palma de Oro en el Festival de Cannes y se estrena en las salas de cine del Reino Unido el de 15 de junio.
Cronenberg, calificó hoy a la estrella de la franquicia de Twilight como

"un actor hermoso que a menudo responde a las escenas sin siquiera darse cuenta de lo que está haciendo. Es por eso que lo amo. "
Pattinson llevará a cabo frente a
Viggo Mortensen
, más conocido por su papel de Aragorn de la franquicia del Señor de los Anillos , que protagonizó History of Violence de Cronenberg, Eastern Promises y A Dangerous Method. Los dos son considerados como socios creativos.
Hablando en Londres hoy, el director canadiense de la mosca, Scanners y eXistenZ, dijo:
"Hay un guión brillante por un autor amigo mío Bruce Wagner. Todos sus libros son fantásticos. Traté este guión hace cinco años, pero no podía verle realizada. En cierto modo, como Cosmópolis, es una venta difícil. Es más maduro de una manera desagradable y molesta. Tiene emoción, pero tiene una emoción extraña, como Cosmópolis
.
"Es difícil hacer películas difíciles. Cuando usted tiene actores muy creíbles que traen una gran cantidad de atención como Viggo Mortensen y Robert Pattinson, creo que sería fácil de recaudar 15 millones de dólares, pero no lo es. "
Vía RPlife
Traducción y via PattinsonWorld