Vamos a continuar lo empezado por Karen en la anterior entrada..........
Ya estamos actualizadas con lo ultimo de Kristen, pero la avalancha que tenemos encima con la promocion de SAWTH y dentro de nada OTH junto a COSMOPOLIS (señoras que Cannes está practicamente aqui!!!)
Hace que haya que ponerse las pilas. Ultimamanete estamos muy organizadas, a ver si seguimos así que el Blog últimamente, da gusto verlo....
Empecemos con las fotos del programa de Jay Leno que a Karen sus dos bichitas peluqueras no le dejaron terminar de poner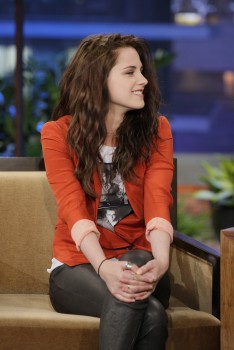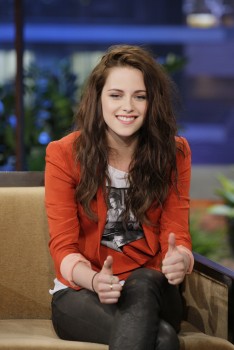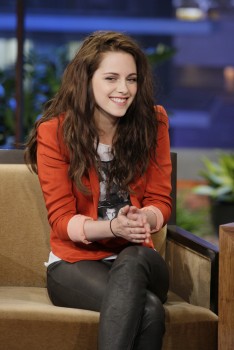 En ese mismo programa, presentaron un video de SAWTH que os pongo aquí
Fotos de los Trajes de Kristen, el cazador y la reina en SWATH
PORTADA DE VANITY FEAR DE KRISTEN
La portada de KStew de VF RT @Gossipgyal:
La edición de Vanity Fair de Julio: Salida el 8 de Junio
Y por mucho que nos pese, por mucha campaña que se haga...MTV es MTV y estará ahi aunque no nos guste............la proxima citade Kristen (8 de mayo) es justamente allí y hay un adelanto pues ya está grabado, así que no nos queda mas remedio que ponerlo.....la pena es que Kristen no utilice su espadita contra ellos, ya que la lleva.....a lo mejor entonces no se sabia aun el lio en que se habia metido la cadena con los Arward 2012...
Las estrellas de 'Snow White And The Huntsman' Traen un clip Exclusivo a MTV!
Kristen Stewart, Charlize Theron, Chris Hemsworth y Sam Claflin debutarán en un sneak peek el Jueves a las 7:56 p.m. ET en MTV, seguido por un Q&A online.
Kristen Stewart lleva en unos pantalones cortos @Longchamp_US, una camisa @Theory__ & tacones de @Brian_Atwood para la entrevista del cast de #SWATH con @MTV!
MTV News se enorgullece de anunciar que estaremos ofreciendo a los fans un primer vistazo exclusivo de la película via "MTV First: Snow White and the Huntsman" el martes, 8 de Mayo. Stewart y sus co-estrellas Charlize Theron, Chris Hemsworth y Sam Claflin estarán en vivo por MTV a las 7:56 p.m. ET para estrenar en exclusiva un clip, después del cual se quedarán para un Q&A en MTV.com realizado por Josh Horowitz de MTV News.
Y para acabar e ir abriendo boca... una imagen de Kristen como MaryLou con una frase del libro

"Marylou era una hermosa rubia con rizos enormes de pelo como un océano de cabellos de oro." - Sal Paradise.