Bueno vaya tonteria de titulo, la mejor vitamina la tiene en casa,
vitamina RRRRRRRRRRRRRRRRRRRRRRRRRRRRRR de Robert,
pero hija mia como no paras quieta, por si acaso tu come bien y descansa
que vaya promocion llevas...
y aún esta por empezar la de OTR...uffffff
Vamos con lo último que encontramos de nuestra vampira favorita por ahí....
"Acabo de ver a Kristen Stewart saliendo de las Llegadas en el aeropuerto Roissy, esperada por los paparazzis. Ella es preciosa"
Traducción LaSagaRobsten
OTR


AMC Networks ha adquirido todos los derechos de distribución en U.S. de ON THE ROAD, para estrenarse conjuntamente con las películas de la compañía de distribución de etiqutas IFC Films y Sundance Selects algún tiempo este invierno. La adaptación de Walter Salles' de la novela de la Generación Beat de Jack Kerouac tendrá la premiere mundial en la competición del Festival de Cine de Cannes, la cual comienza la semana que viene. AMC Networks, quien es propietaria de IFC y Sundance Selects, se ha dicho que ha adquirido los derechos del título en una baja cantidad de siete cifras. Múltiple gente que han visto la película está de acuerdo que contiene calibre de premios para las actuaciones y cinematografía, pero añade que dura dos horas, y que la nebulosa narrativa hará que se convierta en un desafío para el mercado para las principales auds. Pero ON THE ROAD se enrollará con más que una base fan integrada: Los Fans del cuento del viaje de la salida sin conciencia de Kerouac, escrita en 1951 y publicada en 1957, estarán ansiosos por ver por primera vez la adaptación a la gran pantalla. Y otro factor para la taquilla serán los fervientes devotos de TWILIGHT, que ha estado constantemente rumoreada para su papel como Mary Lou desde que el proyecto fue anunciado hace dos años casi día a día. Otro cast incluye la estrella de TRON: LEGACY Garrett Hedlund como Dean Moriarty; Kirsten Dunst como Camille; y Sam Riley como el alter ego de Kerouac, Sal Paradise. Amy Adams, Elisabeth Moss y Viggo Mortensen la co-protagonizan. - Josh L. Dickey
Traducción LaSagaRobsten
"21 de mayo vamos a empezar a liberar nuestra cobertura exclusiva de On the Road con entrevistas a Kristen Stewart y el reparto"
Traducción LaSagaRobsten
SWATH
Video de la BSO "Breath of Life"
Más de SWATH ahora en HQ AQUI
SEÑORAS.... APARECIÓ EL PRINCIPE!!! JAJAJAJAJAA!!!
BTS Y CLIP
Nick Cassavetes dirigirá a Kristen Stewart en 'Cali
Nick Cassavetes - mejor conocido por haber dirigido la gran adaptación de Nicholas Sparks -, dirigirá la pelicula enérgica y llena de acción CALI, en la cual Kristen Stewart será su protagonista. Dicha pelicula sigue una pareja de enamorados de Fernando Valley que venden una película falsa de porno, huyendo con un fajo de dinero. Años después, Mya debe "volver de los muertos" para salvar a su hermana pequeña, la cual dejó atrás en Cali. Voltage Pictures estará vendiendo la pelicula en el Mercando de peliculas de Cannes, y los productores esperan poder empezar a finales de verano.
Traducción: TodoTwilightSaga
Publicado por Robward and Krisella
Foto de Kristen dejando su hotel el 8 de Mayo 2012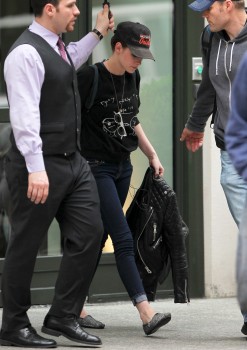 Kristen lleva sudadera de H81 Nickel & Dime de Forever21
más AQUI
Fotos de Kristen en el After Party de la Gala MET